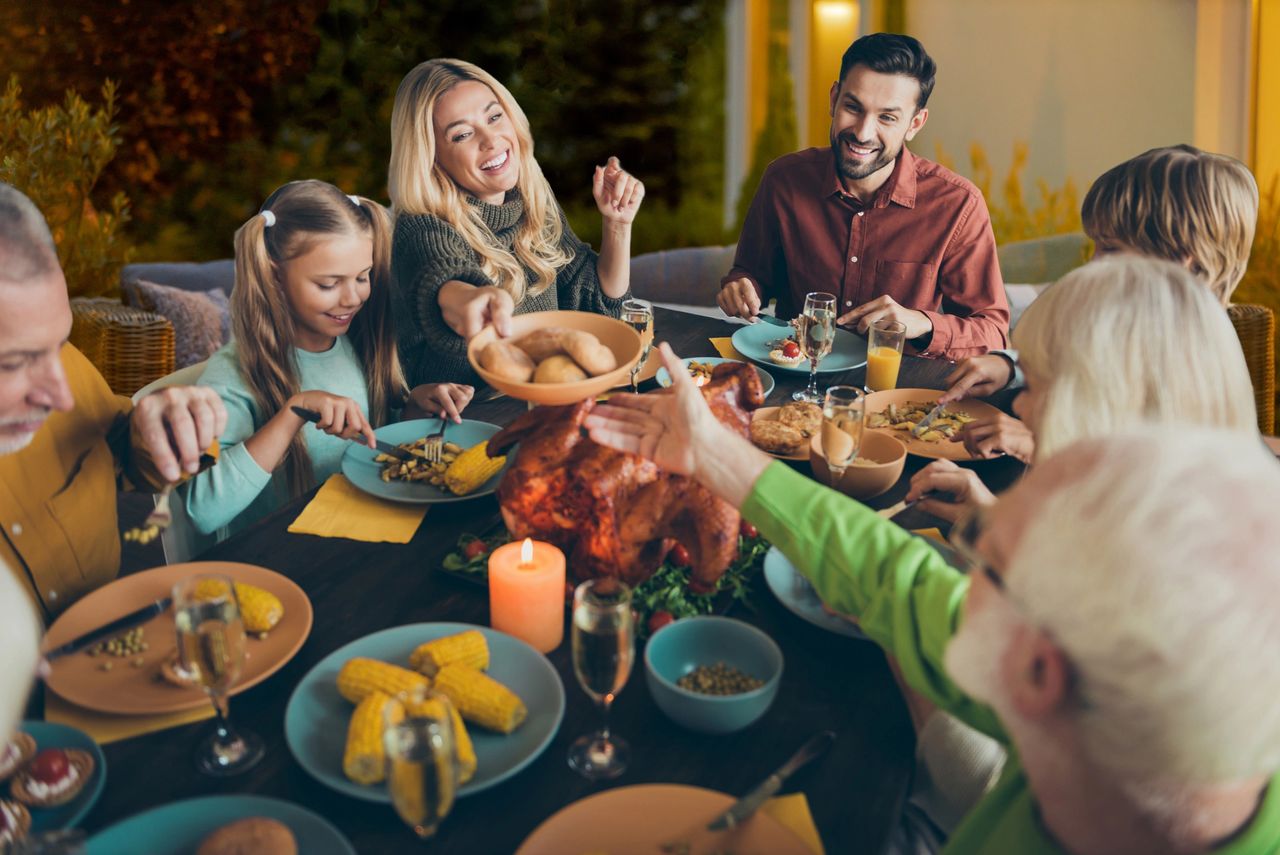 Modify traditions to safely enjoy the Thanksgiving holiday
Thanksgiving is usually filled with annual traditions and is a cherished time for gathering with family and friends. This year, things will be different. To reduce the risk of exposure to Covid-19, traditions will need to be modified or put on hold.
Despite the circumstances, we can still have fun and find meaningful and creative ways to connect with each other. Do your best to focus on the spirit of the holiday rather than on specific activities.
To help you enjoy the day together, we've got 6 fun and festive ideas for celebrating Thanksgiving while staying safe.
6 tips for a safe, fun, and festive Thanksgiving holiday
1. Organize a virtual family Thanksgiving meal
This year, minimize risk by moving the celebration online and organizing a virtual gathering.
Even if it's not the same as being in the same room, setting up a group video chat still allows everyone to be together.
To help things go smoothly on Thanksgiving, test your chosen virtual gathering method ahead of time to work out any kinks.
To improve the video conferencing experience, consider:
Note: To include older adults who aren't able to set up or use technology devices due to dementia or other health conditions, we've got detailed suggestions for how to video chat with them here.
And here are a variety of ways to gather virtually.
Group video calls:
Free one-on-one video calls:
If video doesn't work for everyone, set up a free conference call phone line so everyone can dial in and hear each other.
Free conference call services:
2. Collaborate on the Thanksgiving meal
For those living near each other, you can still collaborate on the Thanksgiving meal even if you can't all eat together in person by organizing a meal or dish exchange among different households.
Work together to decide on a menu, then have each household sign up to make one or more dishes.
After preparing the dishes, pack them into food storage containers and distribute portions to each household on Thanksgiving morning.
Later, everyone can gather virtually and enjoy their meals together.
Or, make the meal more of a shared experience by deciding on a menu together and agreeing on which recipes to use.
Then, everyone can cook the same meal and enjoy it together, even in separate households.
3. Order and/or send food
This year has been stressful and exhausting. Give yourself more time to relax on Thanksgiving by cutting back on the cooking.
Instead of cooking all day, order food from a local restaurant or grocery store, either an entire Thanksgiving dinner or just the side dishes.
And for family or friends who live in other cities, sending food from a restaurant in their area is a wonderful gift.
Ordering from local restaurants is also a wonderful way to support small businesses that have been hit hard by the pandemic.
For nationwide delivery, here are some delicious ideas:
If you enjoy baking, consider mailing your homemade goods to family ahead of time so they can all enjoy them on Thanksgiving. 
And even if you're not able to eat together, everyone will enjoy the baked goods and know that you were thinking of them.
Things that ship well include sturdy cookies (wrap them individually), bar cookies, brownies, and quick breads. Here are some helpful tips on shipping food from the USPS.
4. Gather together outside
One way to safely eat a Thanksgiving meal together is to gather outdoors, if weather permits. 
Set up tables and chairs in the backyard or the driveway so you can all enjoy eating together.
To keep at least 6 feet of distance and minimize touching, set up separate tables, serving platters, utensils, and condiments for each different household.
And to keep everyone as safe as possible, ask everyone to wear face masks when they're not actively eating and drinking. This is important because you're all in close proximity for an extended period of time, even if you're all outside.
Some ideas to make outdoor dining more comfortable in cold weather:
Eat at the warmest time of day
Ask everyone to dress in their warmest clothing / wear thermal underwear
Have everyone bring a thick blanket or sleeping bag to wrap themselves in
Pass out

 

hand warmers

 

for everyone to keep in their pockets
Use an outdoor patio heater or fire pit to warm the space
Use a space heater on an extension cord
For older adults with health concerns, consider having them sit mostly indoors so they'll be warmer and protected from wind.
For example, a setup that might work well is having them sit inside a heated garage with the door open and having the rest of the group sit 6 feet away, just outside the garage.
Note: At least 3 sides of the space must be open to provide enough ventilation to reduce the spread of Covid-19, so having everyone sit inside the garage with the door open isn't recommended.
5. Decorate the house
Creating simple Thanksgiving-themed decorations is a fun activity and placing them all around the house will instantly brighten the mood.
You could even make extra decorations to mail to family and friends and spread the cheer.
Try these festive DIY Thanksgiving decor ideas:
6. Send Thanksgiving cards or letters to family and friends
Sending a thoughtful card or letter is another way to express love, gratitude, and caring during Thanksgiving.
If your family has a tradition of sharing what they're grateful for, this is a wonderful way to keep it going even if you can't all gather in person.
You could send individual notes to say hello or a longer letter that lets them know why you're grateful for them. Or, write an open letter to the whole family and send a copy to each person.
By DailyCaring Editorial Team
Images: PicMonkey/Getty Images and Deposit Photos