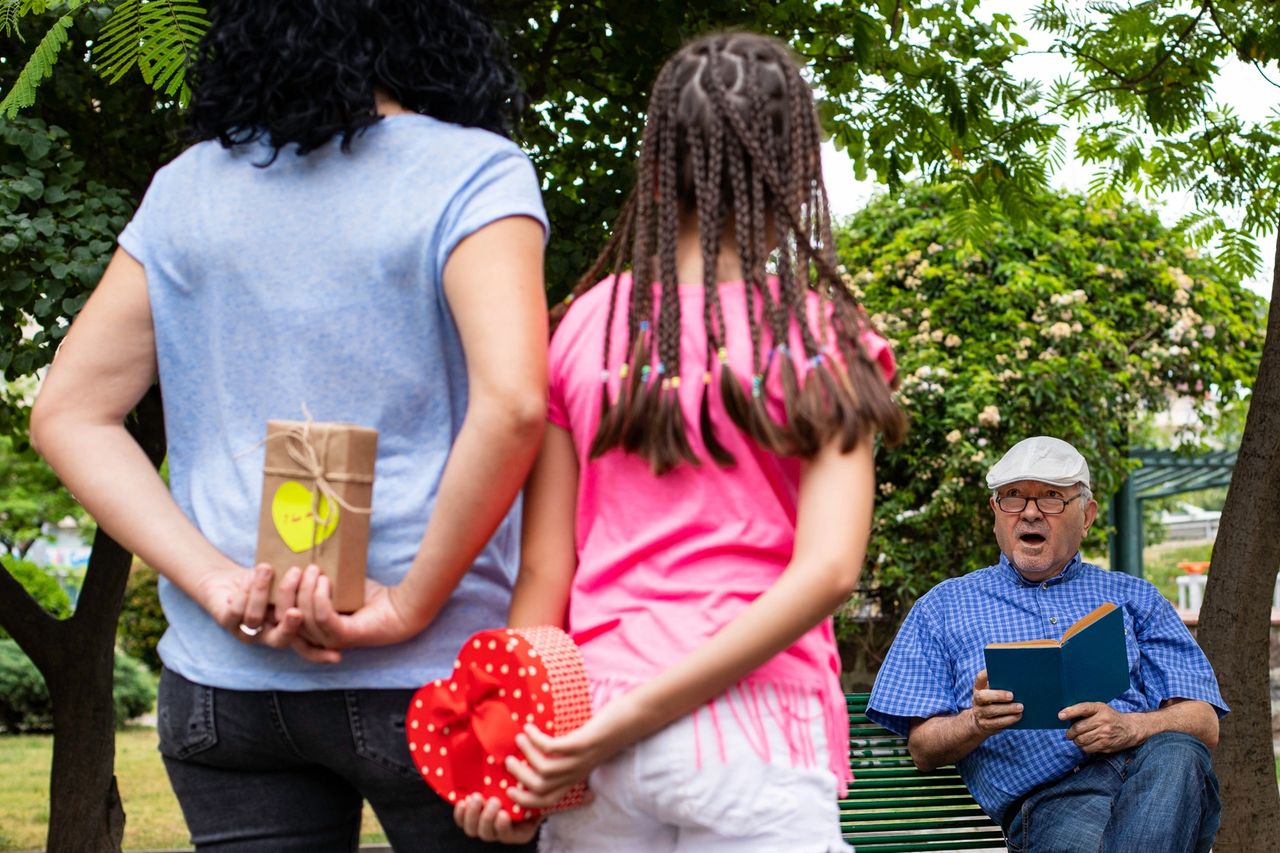 Adapt Father's Day traditions to celebrate safely
We've all been adapting and finding creative ways to spend quality time together while staying safe during the coronavirus pandemic.
That's why we're sharing 9 unique activity ideas for celebrating the important man (or men) in your life this Father's Day.
These activity suggestions allow you to enjoy time together whether you're in the same household or at a distance for safety.
We also share 6 thoughtful gift ideas that will let them know how much you care about and appreciate them.
1. Share a favorite meal
Even though some restaurants have been opening for limited dine-in service, it's still safer to get takeout or delivery for home.
If you don't live near the special man in your life, order from their favorite restaurant and have a nice meal delivered. 
If you live with or near them, you could make their favorite dish and drop it off at their doorstep.
Then, for the Father's Day meal, eat together in person if you're in the same household or eat together virtually via video call or while you're on the telephone together.
2. Say hello from a distance
If you live in the same area, a great idea is to make some big Father's Day signs or giant cards and make a festive, but safely distanced, visit to their house.
Stand on their sidewalk, outside their closed window, or in the yard and display your fun and festive signs. 
While you're there, call them from your mobile phone to speak with them or simply speak loudly through the window glass.
3. Enjoy nature together
Getting some fresh air is an especially refreshing activity. Sit together on the porch, in the yard, or in front of an open window and just enjoy nature together.
If you're not in the same household, do this virtually via video call or telephone.
4. Tour a museum, virtually
Science, technology, history, or art lovers might enjoy visiting a museum. This year, you can visit museums around the world and even hop from one museum to another.
For example, military buffs might be interested in touring the National Museum of the United States Air Force. The NMUSAF is the oldest and largest military aviation museum in the world, with more than 360 aircraft and missiles on display. 
You can see Franklin D. Roosevelt's presidential airplane along with military weapons and aircraft in the virtual tour of the Air Force's official museum. And don't miss their YouTube channel with dozens of interesting videos and performances.
Another interesting museum is the Smithsonian National Air and Space Museum's online exhibits. Scroll down the Air and Space Anywhere page to see virtual tours, cockpit panoramas, historical plane video stories, and video interviews with famous astronauts and aviators.
Check out more virtual museum tours listed in our article Coronavirus Virtual Experiences at Home: Animals, Music, Art, World Travel, Museums, Theme Parks
5. Watch their favorite sports together
A sports fan would love to have company while they watch an exciting game. 
A fun way to watch a game from the safety of home is to catch a replay of a game. 
With popular online sites like ESPN.com, signing in with your cable TV account typically gives you access to past games.
Or, use a subscription site like NBC Sports to watch a wide variety of sports. A subscription to a sports streaming service would also be a great gift for a sports enthusiast!
6. Attend a virtual concert or show
Another experience you could enjoy together is to listen to music or attend a virtual concert.
Many arts organizations, musicians, orchestras, and Broadway musicals are making their shows available online for free.
For a list of available virtual live shows, check out our article Coronavirus Virtual Experiences at Home: Animals, Music, Art, World Travel, Museums, Theme Parks.
7. Relax with casual activities
Another relaxing way to spend time together, virtually or in person, is to watch a favorite movie or TV show. 
Many major TV stations like ABC, NBC, and CBS offer full episodes of their shows for free on their websites and through their apps.
You could also do a jigsaw puzzle, sudoku, or crossword puzzle together. If you're not in the same household, it doesn't have to be the same puzzle. The goal is to enjoy an activity together.
8. Relax with music
Another activity that can be enjoyed in person together or via video call or telephone is to listen to music together.
If you both play the same song, you can listen or even sing along together.
9. Read a book together
Whether in person or on a call, you can read aloud from a book of their choice.
You can download a variety of books online free through your local library's online services, buy e-books on Amazon Kindle, or get free e-books from Project Gutenberg.
Need a Kindle eReader? Order one here.
6 thoughtful Father's Day gift ideas
1. Send a heartfelt card or letter
Sending a card or letter with a nice message is always a thoughtful way to show how much you care and that they're in your thoughts.
2. Gift a device that makes video calling easy
It can be tough for a non-tech-savvy person to make or receive video calls.
To make it easier for your older adult to be able to virtually see you more often, consider gifting them with a video calling device and taking care of the setup ahead of time.
These devices do need to be set up to connect to a WiFi network, so if possible, you could ask someone in their household to help get it set up.
Devices that make video calling easier for seniors include:
3. Give gift cards for favorite services
To make their life more convenient, you could give them a gift card for a popular restaurant currently delivering meals or to an online store. 
Right now, grocery delivery services are especially helpful. Or, to make it even easier for them, you could let them know that you'll be gifting them their next grocery delivery and place the order for them.
Grocery delivery is available from a variety of stores, including:
4. Send a custom gift basket
A gift "basket" filled with some of their favorite items is a wonderful way to show how much you care. 
Everyone would love a basket filled with favorite snacks, beverages, or everyday basics like the soap or socks they prefer.
Whether it's a mailed package, something dropped off at their door, or a gift you're able to give in person, your older adult will appreciate your thoughtful effort.
5. Consider other thoughtful gifts
6. Create a custom photo album, calendar, blanket, or puzzle
With a custom photo album, you can showcase special photos or events so your older adult can reminisce anytime.
For people with Alzheimer's or dementia, you could even create a custom book they'll love to read by adding simple text to photos or images they enjoy.
Make a custom photo calendar to help your older adult keep track of days, months, and appointments while seeing smiling family faces.
A custom photo blanket will keep your older adult warm and cozy with familiar faces all around. These photo blankets are especially nice for people with Alzheimer's or dementia.
A custom photo puzzle uses a family photo or picture with special meaning to create a fun puzzle your older adult can put together again and again.
For more information on the Coronavirus (COVID-19) please visit: The Center for Disease Control
Call Us Now for Peace of Mind. We're here 24/7 to help you. 
Call (770) 874-2744. Or click
HERE
to schedule a free in-home consultation.
Credit:  Daily Caring Editorial Team
Images: PicMonkey/iStock